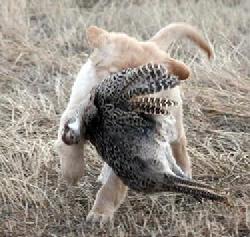 Click on picture for hunting article
More Hunting Buddies - on the way! Scroll down for upcoming breedings.
Click on picture for hunting article
If you are looking for your first Golden Retriever puppy - please visit our Looking for a Golden & Favorite Links page and make sure you are familiar with the breed standard, the health issues and fully understand the commitment, time and energy needed to raise a puppy properly. Watch this AKC sponsored VIDEO. Take your time and do your homework!!
As members of the GRCC, GRCA and GRCBC, we follow these breed club's code of ethics and also the lead of conscientious breeders striving to produce healthy sound Golden Retrievers that conform to the Golden Retriever Standard. Temperament, health, longevity and hunting ability are our number one priorities. We will not be breeding very often, our Goldens are first and foremost our best friends, hunting buddies and full time house companions.
When we do have a litter, it may be raised with Barb Loree in Black Creek BC on Vancouver Island or with our co-owners. We have entered into co-ownerships with breeder friends and some of our puppy owners who share the same dream for the ideal hunting companion, healthy and long-lived Golden Retriever. We do not believe any Golden should live in a kennel environment, we believe in the same breeding philosophy and share the same dream for healthy, sound, athletic representatives of the breed.
Remember - these are active hunting retrievers that should have a fairly high level of energy, good prey drive, be confident, alert and eager to please and also able to settle in the house and family environment (a good off-switch). They should not be hyper or reactive (which can sometimes be mistaken for drive and energy). The philosophy we share is to look for longevity, low in-breeding co-eifficients (out crossing as much as possible going back 5 generations at least ) in the pedigree and prospective parents must have all their clearances (hip, elbow, heart, eyes done yearly & no autoimmune issues) sound temperaments and good structure. We do not believe in breeding just to win titles in any particlular venue and we do not believe in breeding to over used popular stud dogs.
Our future puppy plans are listed below and please remember these are only planned breedings, until we have a confirmed pregnancy there is no guarantee puppies will even be available. We do not ship puppies on their own, all new prospective puppy parents must make arrangements to pick up their puppy. We are very excited about these pairings and expect good looking / working / hunting retrievers that could excel at top competition levels in multiple venues. All pups are raised in the home with early neurlogical stimulation between 3 - 17 days, socialization with children, adults, other dogs and introduced to birds, starter pistols, collars, leashes, crates, sherpa bags, puppy agility obstacles, water (weather permitting), puppy walks, clicker training, whistle commands and they are naturally weaned by the dam.
We will accept a few puppy applications from experienced working homes, hunting homes and pet homes until the puppies are whelped then we will post availablity.
(check back for updates and pictures).
Litter listings may appear below from our breeder friends who share the same dedication to the this breed.
Ridgecrest CA - Punch x Lyric, Puppies due April 2nd
Punch x Lyric Litter - Contact Danette Weich at Woodecoy Golden Retrievers
Puppy reservations available for performace, field/hunt test, SAR and active family hunting homes. Sorry no pet reservations available.
Trigger & Soleil - Spring / Summer 2018
HR UH Goldngun Pull The Trigger SH WCX CGN CCA
x
Rio's Kurios Cirque DuSoleil PCD RE JH WC CGN
This litter will be raised in Chilliwack, BC.
The puppy reservations are full for this litter, if you would like to be on the waiting list please contact us. Preference is given to hunting, hunt test / field, working homes (SAR) and experienced active pet homes.
Trigger Soleil Website page
For information on this litter contact Barbara Loree barb@rio-ranch.com
Trigger's Clearances
&

Soleil's Clearances
| | |
| --- | --- |
| Trigger | Soleil |
Sparks & Carmen - Fall 2018
Flashpaws Firecracker MH CD WCI Am CDX WC
Rio's Chica Chica Boom WC JFTR ** Am WC
The puppy reservations are full for this litter, if you wish to be on a waiting list please contact us. Preference given to performance, obedience, agility, field/ hunt test homes. This litter will be raised at Swamp Dog Farm in Black Creek, BC on Vancouver Island.
Spark's Clearances
OFA Website

& Carmen's Clearances

OFA Website
For more information Contact Barbara Loree at barb@rio-ranch.com
Litter listings below may appear from breeder friends who have the same dedication to this breed.